Board-Certified Surgical Specialist
At Arkansas Veterinary Emergency & Specialists, Matt Field is a board-certified surgical specialists who uses state-of-the-art technology while putting your pet's safety and comfort at the forefront.
Surgical Services for Pets
Dr. Matt Field is dedicated to providing the very best in surgical care. He has undergone additional training after veterinary school, including an internship of at least one year as well as a three-year residency program designed to meet guidelines created by the American College of Veterinary Surgeons (ACVS). While in the care of our team, your pet will be in good hands.
What to Expect Before Surgery
Learning what to expect before your pet's surgery will help make the process easier for you and your beloved pet.
Initial Examination

Based on your pet's issues, our veterinarian will perform a detailed examination of your pet. Then they will discuss recommended diagnostic tests, risks, procedures, complications and expected outcomes with you in detail. Our goal is to make sure you know the exact treatment plan. 

Many surgeries are scheduled within a few days of your initial examination, but there are times where additional tests or lab work is needed.

The Night Before Surgery

Your veterinarian will provide you with specific preoperative instructions for your pet. 

The night before surgery, you should not feed your pet after midnight. You can give them water, but only in small amounts. 

The Day of Surgery

You can drop your pet off for surgery between 7am and 8am.

Please be aware, there are occasions where emergency surgical procedures may cause changes to the drop-off or surgical schedule. If such an occasion cause a delay in your pet's surgery, we apologize in advance. We will be sure to keep you apprised of changes and contact you before and after surgery.

Most surgical procedures require at least one night of hospitalization. Surgical patients will stay in our ICU for the first night and are monitored continuously throughout their stay. We are always staffed with an emergency veterinarian and several nurses at all hours so your pet is never alone.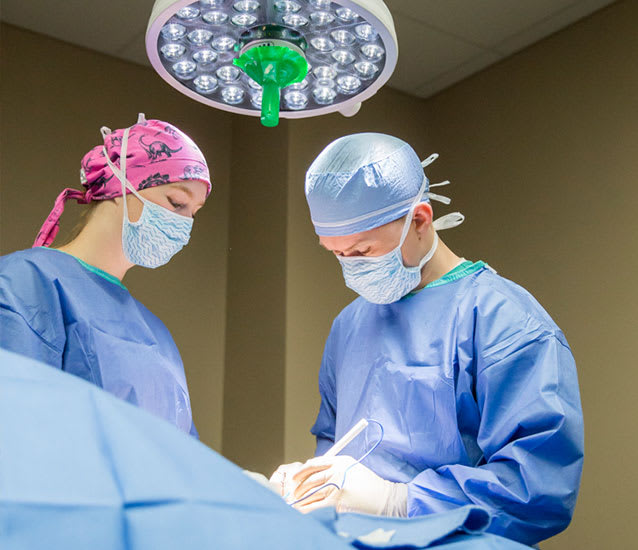 Common Surgical Procedures
At Arkansas Veterinary Emergency & Specialists, we routinely perform soft tissue surgeries to treat disorders in cats and dogs, orthopedic surgeries such as TPLO (Tibial Plateau Leveling Osteotomy), IVDD (Intervertebral Disc Disease), and emergency c-sections.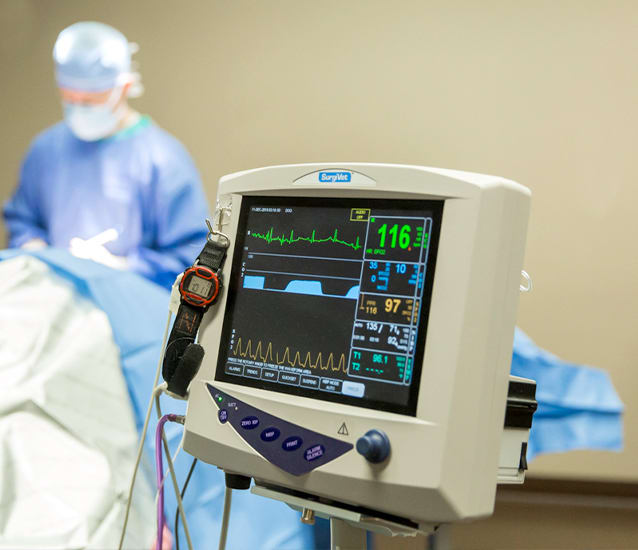 What to Expect During Surgery
While in our care, your pet is in good hands. Everything we do, every decision we make, is designed to ensure post-operative success for your pet.
Anesthesia

Every surgical patient has an anesthetic plan that is tailored to their specific condition. Overall cardiovascular health and lab work are taken into consideration by our highly skilled anesthetists.

We take extra care to ensure your pet is pain-free during and surgery often by using a multimodal approach (i.e. local anesthetic, epidural anesthesia and systemic medications).

Continous Patient Monitoring

We use state-of-the-art monitoring equipment (EKG, oscillometric blood pressure, arterial line, pulse oximetry, end tidal CO2, etc.) to monitor your pet's vitals during surgery. 

Sterilization

All of our procedures use strict sterilization techniques. Our operative suite has positive pressure air flow and the room is thoroughly cleaned after every procedure. We also use sterile prep and full surgical attire (sterile gloves, surgical cap, surgical gown). 
What to Expect After Surgery
Once surgery is complete, your veterinarian will contact you to discuss the procedure and plan. Some pets are able to return home the next day while others are required to stay longer. It ultimately depends on the complexity of the procedure and the pet's health status.
When you arrive to pick up your pet, we will provide you with discharge instructions and answer any questions you have.
From Our Clients
"We had to put our dog down. The team at AVES was very compassionate and caring to us and our baby. Everything was done with such respect – I was in awe of how professional everything was. Highly recommend."